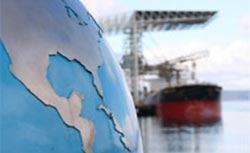 Whether we load them ourselves or our customers load them, DHX - Dependable Hawaiian Express specializes in container shipping to Hawaii (and Guam). We've built an excellent reputation within the communities we serve by opening operations in the major port cities to better serve our customers. We've made it a point to be members of the community, to live and work alongside those we do business with.
Shipping containers to Hawaii isn't all we do; we also provide local services like public warehousing and local trucking in order to be a One-Stop Shop for our customers' transportation needs. DHX - Dependable Hawaiian Express opened facilities in Los Angeles in 1980, Oakland in 1981, Seattle in 1987, Guam in 1989, Honolulu, Oahu in 1992, Kahului, Maui in 1996 and the Kona side of the Big Island in 2006.
Striving to do a great job as experts in shipping containers to Hawaii, we use the Matson Navigation company as our exclusive carrier for our container shipping to Hawaii and Guam. Why Matson? When it does not make sense economically, we search for and partner with those who we consider among the best to represent us.With newer, more reliable vessels than their competition, and being in the Hawaii trade for over 100 years, we can't see using others to do what Matson does so well and with such a commitment to the islands.