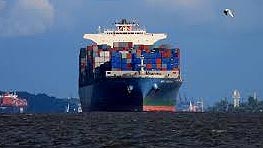 What is an acceptable transit time for shipping from the U.S.A. to Guam?
There are two carriers that currently provide ocean service from the U.S.A. to Guam. One carrier has a transit time of two weeks with an arrival of Tuesday every week. The other carrier has a transit time of three weeks with an arrival of Thursday or Friday.
At
DHX-Dependable Hawaiian Express
, via our affiliate
DGX
, we pride ourselves in moving product for businesses as fast and problem free as possible. Thus we choose the quicker carrier
to Guam
– the one with the better on-time record. Our carrier has an on-time record of 78%, based on an ETA of 59 minutes or less. The alternate carrier has an on-time record of only 23%, less than one in four of their ships are on time.
DHX - Dependable Hawaiian Express
also offers the latest cut-off times in the industry to receive freight on the west coast, as well as we offer deliveries in Guam within 48 hours of container availability. This gives you a total transit time from the west coast of 17-18 days. The other carrier would provide a 30-day service from the west coast to Guam, due to earlier carrier cut offs and transshipment through a foreign port.
Check out our ocean delivery schedule
.
Five options and details to consider when thinking about longer transit times:
Your product availability is delayed meaning you'll need to keep more inventory in stock. This costs your business more money.
Vendor payments are due just as product is being delivered on Guam, based on net 30 day terms.
Business competitors may receive their product earlier and are able to deliver and complete the sale sooner—thus you lose the sale.
Not having your product before the weekend can affect your total weekend sales.
Four benefits of faster transit times and later cut offs:
Last minute orders can make the same week sailing and arrive in 17-18 days.
Less inventory needed increases profitability.
Having inventory on hand to sell before payments are due to vendors.
More sales and better customer loyalty because you always have inventory in stock.
With slower transportation and lower transportation costs, is it worth the added expense of higher inventory levels and the risk of losing customers and sales waiting for product to arrive?
Call DHX - Dependable Hawaiian Express today for a rate and sailing time quote
to see how we can save you both time and money.