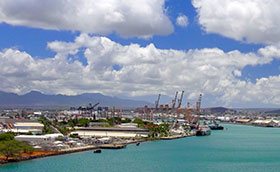 In June 2017, we will celebrate the 25th anniversary of opening our own trucking terminal and delivery operation in Honolulu on Oahu.
A huge gamble and large investment at the time, DHX - Dependable Hawaiian Express opened in Honolulu, Oahu. Like all other freight forwarders then, we were using trucking agents to deliver freight across the island. Because we used third-party agents, the quality of the service was not reliable and the scope of services we could offer was limited such as short or long term storage and warehousing, assembly and distribution, or local trucking. We were a freight forwarder to Hawaii, like many others, but opening on Oahu made us distinct among the forwarding community.
Although we had started a trucking operation in Guam in 1989, the Honolulu operation helped us define future strategies in the islands. Once we had quality under control with freight handling being done through a single group of companies with the same management, we evolved into an outstanding service from the beginning of the shipment move to the end.
We started using credos like "on time, intact, every time" because we controlled all aspects of the move. Excuses like, "we'll have to check with our agent to see if they can do that and if there will be additional charges," went away because
we were
the agent and could easily make these business decisions. For customers, that meant less waiting, more seamless operations and a better quality shipping service to Honolulu. Because Oahu worked out so well, over time we expanded our delivery operations to include the destination ports Kawaihae on the Big Island and Kahului in Maui.
DHX - Dependable Hawaiian Express Honolulu has earned a big 25th anniversary congratulations! We wish to thank the management and staff for contributing to making us the biggest and best among all our competition there.
Thank you, DHX – Dependable Hawaiian Express, Oahu and Happy Anniversary! You help make us DEPENDABLE. From Start to Finish!