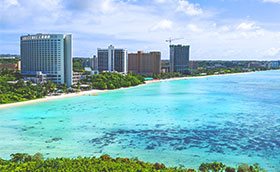 What is the cost to ship to Guam?
Shipping ocean freight to or from Guam can be a complex situation for a variety of reasons. Only one carrier services Guam directly with a USA stop-off from the USA mainland – Matson Navigation Company (Matson). Matson's transit time from Long Beach (SoCA), which includes a stop off in Hawaii, is 12 days from Long Beach to Guam, four days longer from Oakland and five days longer from Seattle.
American President Lines (APL) also ships containers to Guam but their transit time is not less than 23 days from Los Angeles, and perhaps longer depending on the vessel the Guam container gets loaded on and the foreign port where unloaded before being loaded onto a feeder vessel into Guam. APL does not offer any alternative transit times for container shipping to Guam from Oakland or Seattle, but modern day trucking services will allow them to service those areas, although less timely than the Matson direct service.
APL and Matson both have fully developed and integrated rail services to complement those container loads shipping to Guam from origins other than the West Coast. They are both well-respected carriers, and have a lot to offer shippers or consignees. Ask yourself how important the transit time is for the container load move to Guam and can you afford a delay in your goods arriving? If these conditions are ok, then a less expensive container load rate to ship to Guam available via APL transshipment is probably your best value. But if you need speedier transit time due to shipment arrival expectations or container content damage, are worried about humidity while on the vessel, need additional handling of the container during the transshipment process, price/value is not the sole focal point, and/or a delay might hurt business profits, then Matson is a better alternative.
A shipper to Guam also needs to be aware that Guam has its own Customs offices, officers, and laws, in addition to USA Customs offices, officers, regulations and laws. Guam Customs is responsible for, among other things, ensuring the goods arriving from the USA have submitted a commercial invoice, and consignees pay a Guam Use Tax or Gross Receipts Tax, as appropriate. The tax is 4% of the cost of the goods shipped into Guam if the merchandise is not held for resale and is used in the business. If you are working with a freight forwarder such as
DHX - Dependable Hawaiian Express
, the law requires the forwarder to collect taxes on taxable goods and remit it to Guam authorities. The rule of thumb is that if it's sold as part of your normal business, no use tax is due; but if the goods are supplies and overhead items to be used in your business rather than sold, then a 4% Use Tax applies.
Another complex issue when using APL is that due to the vessel arriving at a foreign port prior to transshipping to Guam, an Automated Manifest System (AMS) has to be filed, meaning the shipper must provide the Harmonized Code tariff number for what they are shipping.
DHX - Dependable Hawaiian Express can help you with that should you decide you'd like to move your containers to Guam through us
.
There are also eastbound services available from Guam to the USA mainland or Hawaii, and additional information we can provide for shipping from non-USA origins into Guam. DHX also offers container load and less than container load services from the Hawaiian Islands to Guam. We look forward to responding to your requests for further information: call us at
(888) 488-4888
, Ext. 2017 (U.S. only)!