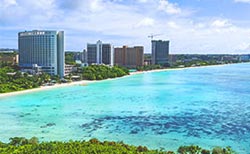 Smooth sailing is not always the case when
shipping to Guam
. Here are some safety tips to help ensure your shipments arrive safely in Guam.
There are 6,000 miles of ocean to cross for your cargo to arrive in Guam – the equivalent of going from Los Angeles to New York and back again. The ocean is not a smooth paved highway, but rather comprised of vast, turbulent seas with swells as big as four-story buildings through which sea faring vessels need to navigate. The vessels get knocked around quite a bit, causing cargo loaded inside containers to shift and move during transit.
In order to minimize any damage caused by the often rough trip, the shipping professionals at
DHX - Dependable Hawaiian Express
always take extra care when loading your freight by adding dunnage and cardboard inside the containers to safely secure the loads from shifting and moving about inside your containers.
As a shipper or supplier shipping items to Guam, here are a few shipping tips to help ensure your products arrive safely and intact:
Always load heavier items on the bottom of pallet, with lighter product on top.
Use three to four layers of shrink wrap to help keep the load from falling off the pallet.
If your boxes are soft cardboard, use corner protectors before wrapping, so boxes are not crushed when wrapping.
Minimize the exposure of products that can be easily scratched by adding protective covering or have the item crated.
On bagged freight, for example: flour, rice, concrete; use cardboard on the sides prior to wrapping with shrink wrap to prevent bags from being torn.
When shipping 55 gallon drums, secure drums to a pallet with suitable banding material.
These are just a few safety tips for Guam shipping. By doing your part, you can help ensure your products will arrive safely to your destination and ultimately to your customer.
At
DHX - Dependable Hawaiian Express
, we will always do our part as your Dependable partner!